---
Project Synopsis
Think, for a moment, about how good it would feel to be a part of a music festival where over 200 of America's top artists are all headlining for a great cause, funding a cure for a devastating disorder called Rett syndrome. Now multiply that number by three.

For over two decades, Houston-based photographer Dave Clements, along with his close friend Kevin Black and Kevin's brother, Clint Black, have been raising awareness and funds for little-known Rett syndrome. Their inspiration for the project comes from Cortney Kevin's daughter, who died in 2003 at age 16 from the debilitating disorder.
Dave and Kevin's remarkable project is a trilogy, three black and white photography books each titled Raising A Hand (Volumes One, Two, and Three.

Incorporating unique design and exceptional photo-quality paper, the three coffee table books depict all the ways artists use their hands during a performance. Each of the artists in each of the books has given their permission to be included, understanding the underlying theme is that they, individually and collectively, are 'raising a hand' for Rett.
Volume One has 206 artists, Volume Two has 236 artists and Volume Three has 336 artists. Perhaps this three-book series is the largest collection of music photos in the world. For sure it is among the largest for a cause.
Rett syndrome is a devastating neurological disorder that strikes mostly girls, occurring in about one of every 10,000 female births worldwide. Like Cortney, these precious girls are born normal and advance as you'd expect, up to about 12-18 months, at which point they start to regress to infancy.
They lose their ability to walk. They lose their ability to talk and also lose meaningful hand motions. They spend the rest of their lives totally dependent on others for their care. They are referred to as Silent Angels because they cannot share what they are thinking or feeling– they cannot tell their mom or Dad that they love them, or verbalize their needs or wants.
"We want to help fund a cure so no one will have to go through what Kevin, his family, and thousands of other families have gone through with their Silent Angels," Dave says.
Please join our photographic "music festival." Help spread the word so that we can make Raising A Hand The Trilogy all that it can be. Researchers are closing in on a reversal. Please help us tell our story of hope for a cure.
On behalf of Silent Angels everywhere, allow us to say what they cannot. "Thank you!"
Bios

Dave Clements
Dave Clements, a resident of Texas, was employed by ExxonMobil's Marketing and Human Resources management teams for 33 years prior to his retirement. As a second career, Dave became a freelance photographer where his skills paved the way for his becoming a photographer for the Houston Livestock Show and Rodeo for over 20 years, Lone Star Sports, NRG Corp, ExxonMobil, the U. S. Olympic Committee as well as both the President and Vice President of The United States.
Dave has photographed four Super Bowls and his images have been seen in a variety of publications across the country.
During his spare time, Dave blends his love for music with photography, taking thousands of photos of his favorite music artists, which has culminated in the creation of this three-book series titled Raising A Hand.
Dave writes music reviews for www.HoustonMusicReview.com and frequently provides pro bono services for many charitable organizations including in part the International Rett Syndrome Foundation, the Crighton Theatre Foundation, Friends of the Flag Foundation, Boys and Girls Country, New Danville, Sounds of Texas Music Series, Young Texas Artists, the Conroe Symphony Orchestra and the DePelchin Children's Center.
Dave and his wife Cathi enjoy traveling and Dave can frequently be found playing a round of golf with his buddies in his North Houston neighborhood.
Raising funds for Rett research until a cure is found is an ongoing priority in Dave's life. His motto is one of benevolence: "It's all about the children." Learn more about Dave and his photography at www.dwcphotography.com .
Kevin Black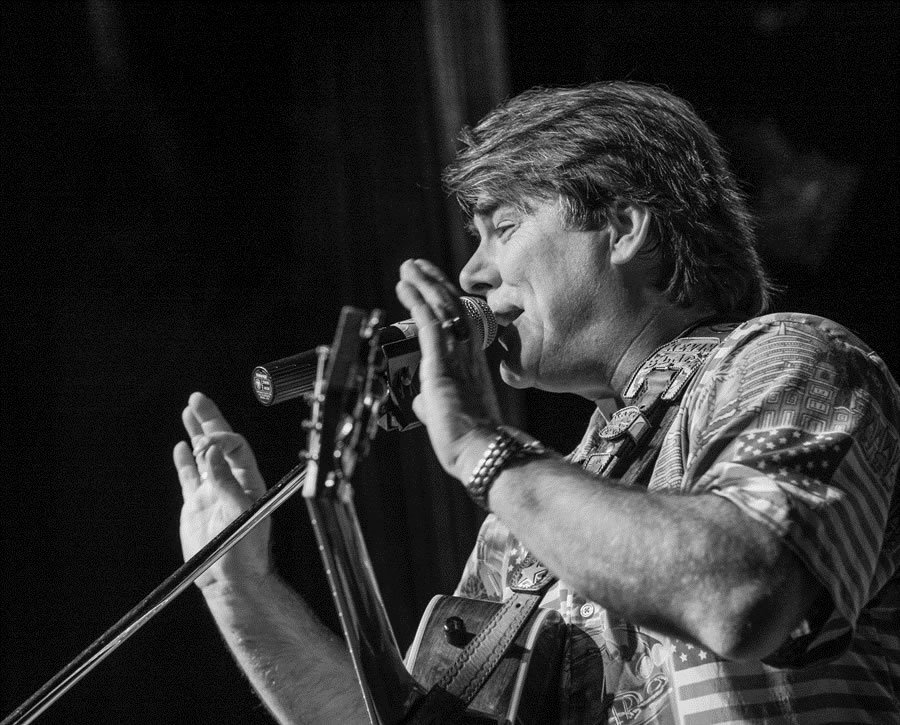 Kevin Black's first memory fueled the desire to entertain at the age of eight when he attempted to emulate Elvis in front of his parents and their friends. To what degree of success is anyone's guess! However, their reaction generated something long-lasting. At nine, he was offered the remainder of four prepaid guitar lessons. Kevin remembers his teacher saying, "I'm going to teach you how to teach yourself to play guitar." That was the only formal training he received. That same year his efforts paid off when he enrolled himself in a campaign to learn some country music favorites like Merle Haggard's Okie From Muskogee from his dad's alarm clock radio. By high school, his love for music would interfere with his parent's plan for his higher education.
After years of working as an ironworker by day and performing in clubs at night, a life-altering event took place. Kevin got married and had three children, Cortney, Marshall and Coleton. Cortney was diagnosed early on with Rett syndrome and that development would very quickly reshape the family's future. Cortney lost her battle with Rett after sixteen years.
Instead of removing himself from the Rett world, Kevin immersed himself along with his friend Dave into a lifelong commitment to raising research funding and awareness until no child or family has to endure the pain and struggles of this devastating disorder.
Kevin's love for photography was always present but didn't come to light until meeting his mentor, Dave. Kevin became obsessed with gaining a greater understanding of how a camera worked and the fundamentals of light. After hijacking a Canon point-and-shoot that was a gift to his partner Angie, he obtained the skills needed to become a published photographer. This grew into a second career and a central part of his contribution to the Raising A Hand project.
Kevin still writes, performs his music, does photography, and admits it's what he enjoys most out of life except for the opportunity to spend time with family and friends. —
Kevin Black
"I can't be any prouder of Marshall and Coleton for the men they have become. Cortney had a profound impact on our lives and my sons embraced the challenges that came with having a sister with a devastating disability."
WHERE IS RAISING A HAND – VOLUME THREE AVAILABLE?
People can start pre-ordering the Raising A Hand Volume Three now through this website.
The content of Raising A Hand Volume Three has been determined and once the design has been completed it will go to the printers and we are hoping to have it ready for distribution during November 2023.
WHAT IS THE PRICE OF VOLUME TWO AND HOW WILL I RECEIVE IT?
The retail price is $39.95 plus a $9.95 U.S. shipping and handling fee per book. Raising A Hand Volume Three will be shipped via USPS.
HOW WILL I GET MY COPY OF THE BOOK?
The book will be shipped via USPS when completed.
WHEN AND WHERE WILL THE BOOK SIGNINGS OCCUR?
As soon as the book is in print Kevin and Dave will be scheduling events where you will be able to obtain your copy of the book autographed by the two of them.
WHERE ARE THE PROCEEDS GOING?
Raising a Hand for Rett is a 501(c)(3) whose mission is to raise awareness for Rett syndrome and help fund a cure. Revenue from the sale of Raising A Hand Volume Three as well as all other donations will go to RettSyndrome.org, to be earmarked for Rett research and Rett Family support.
HAVE ANY ARTISTS REFUSED TO BE IN THE BOOK?
We are pleased to say that almost every artist that we requested to be in Raising A Hand Volume One, Two & Three has agreed. Two hundred and six in Volume One, two hundred and thirty-six in Volume Two, and three hundred and thirty-six in Volume Three have all agreed to be a part of this project.
WILL THERE BE A BOOK TOUR?
Kevin and Dave are hoping to do a book tour following the release of Raising A Hand Volume Three.
WILL THERE BE ANY EVENTS SUPPORTING THE LAUNCH OF THE THIRD BOOK?
Yes, there are currently four events planned so far during 2023 in support of the third book.
The first is Saturday, May 6th at Salon Bei' Elle which will launch the 'pre-sale' on Volume Three. The event is from Noon to Six PM and the salon is located at 13185 FM 1097 W in Willis, Texas. Call Dave at (1-713-410-6076 for additional information.)
The second is a concert at Dosey Doe's Big Barn on Saturday, August 19th featuring Texas Country Legend Gary P. Nunn and a new Country sensation out of Canada, The Heels. Tickets can be purchased at www.DoseyDoeTickets.com
And on November 26th Kevin will be the featured performer on Kyle Hutton's live Real Life Real Music show at Dosey Doe's Big Barn. Tickets can be purchased at www.DoseyDoeTickets.com
A fourth event is being planned for early December at Mercedes Benz of The Woodlands. More information will be forthcoming.
CAN I MAKE A DONATION WITHOUT PURCHASING A BOOK(S)?
Certainly, please go here to make a donation online or you may send a check to:
RAISING A HAND FOR RETT
C/O Dave Clements
34 Carmel Court
Montgomery, TX 77356
Why aren't some prominent artists such as Elton John, Carlos Santana, or Emmylou Harris in the book?
There are many more artists that we would have loved to offer the opportunity to be included, yet there was a limitation on the number we could include or neither Dave nor Kevin had not yet had the opportunity to photograph them. Having said that the two guys have likely put together one of the largest collections of music photographs in the three books.
Could there be Volume 4 of Raising A Hand?

There will only be three books of Raising A Hand. Kevin and Dave are developing a 'Limited Edition' box set which will be available for purchase through www.raisingahand.com however there will be no additional volumes in this series.
That said there are discussions underway between Dave and Kevin on doing a fourth coffee table book of photography with the proceeds going to Rett research and family support but it will not be part of the 'raising a hand' series. More information will be available after the 'Raising a Hand' series sells out!
What the Artists are Saying

Hands are raised in anger. Hands are raised in supplication. Hands are raised in salutation. But best, hands are raised in accountability. As in, 'Count me in.' Joining the throngs who support – whatever it is. In this case, those with Rett Syndrome. Those whose lives were cut short at an early age. Those whose potential could never be realized. Think of them, their families, and their friends. Lend a hand. A hand offered, raised or otherwise…
British singer/songwriter Ian Anderson (Jethro Tull)
There are so many good souls out there like Dave and Kevin and people want to know that. They want to hear about it. Everybody wants to know that that still exists in this world. I know it matters. If I didn't think that, truly, [my world view] could 'go dark' real quick.
Songwriter Tony Arata, who penned Garth Brooks' "The Dance"
I'm just thrilled to death to know that my picture's gonna be in the same book with Gene Simmons and Billy Gibbons!!… Hell, man. That's cool!
Country Music Artist Mark Chesnutt
I see hands raised in appreciation and waving back and forth or holding a light– a happy and positive experience for all and a symbol of unity and undying love. Let us raise our hands together for those who have fallen from Rett syndrome and for those who now suffer and raise a positive example of our unified hope for a cure for Rett's disease high up in the air–others will follow.
Grand Funk's Mark Farner
I am honored to be a part of this(ese) book(s), and collection of great artists– all putting a hand up for Rett, to say 'count me in.'
Texas Music Artist Shake Russell
I cannot imagine what it is like to watch your child suffer with something as difficult as Rett Syndrome. I can only do my best to help raise awareness and hopefully one day there will be a cure.
Grammy-nominated Texas Music Artist, Pat Green
Raise a hand and perhaps raise a voice. Join together in a volunteer effort to make someone else's life a little better.
Winner of NBC's "America's Got Talent," Season 5, Michael Grimm
Contact info
General Inquiries:
Dave Clements
david-clements@msn.com
713-410-6076
Kevin Black
kevin@kevinblack.com
281-723-7681